Running With the Apple Watch
01 May 2015
It's time for more hairy wrist pictures! A quick comparison of the Apple Watch to my Nike+ SportWatch GPS for running.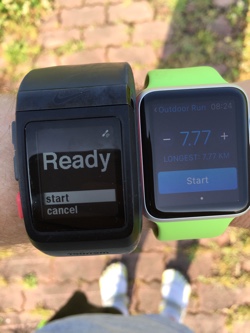 Good:
Light and accurate when paired with phone
Milestone beeps and taps are clear, and distinct
Pair with running apps, music, etc on iPhone
Bad:
Unable to customise watch display to show only stats I want.
No intervals, etc.
Ugly:
Hard to read in direct sunlight
Must carry phone if I want it to be accurate or use GPS
Very hard to take a quick read outside without stopping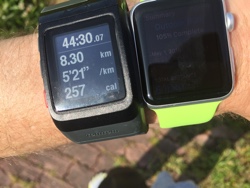 Verdict:
Undecided if I will use the Apple watch for running. I may just keep using the Nike+ watch for the time being.